To a Wonderful Pope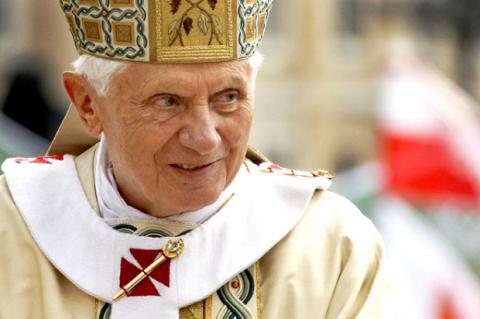 In the groggy first moments of the day, as I was just beginning to sip the morning's coffee my wife shocked me with some news:
"Pope Benedict is stepping down!"
I literally ran for my iPad, half thinking it was a joke. As the whole world knows by now, Pope Benedict XVI had indeed announced his resignation as of February 28th due to deteriorating strength in his advanced age.
It's impossible not to be sad that such a great man is stepping down from the leadership of the Church. How dearly have we come to love him since he became pope in 2005. (I recall a friend calling him a "transitional pope" due to his age back then. Quite the transition!) While I didn't know much about him at the time he was elected, I learned that all those who tried to sum him up were doomed to failure. He seemed to continually and steadfastly defy all categories that they (especially the secular media) world tried to box him into. Though they often tried to attack him with ridiculous titles ("Panzer Cardinal", etc.) and foolhardy and false carachterizations, in his gentleness and authenticity he was kind of.. slander-proof.
His inspired intellect guided the Church through a time of widespread relativism and general moral decline. He wrote wonderful encyclicals, apostolic letters, and even (amazingly) books in his limited spare time (as the theologian Joseph Ratzinger) to contribute to theological study of the Person of Jesus Christ.
He built bridges continually, reaching out personally to those harmed by abuse scandals. He also extended the proverbial olive branch to schismatic Christians in ways no one could have imagined. He exhorted young people to bring the faith to the digital world, and showed how serious he was by joining Twitter himself.
He inspired Catholics everywhere with his quiet holiness.
I will miss Pope Benedict. I feel like many people of my generation, who loved and were inspired by JPII, came into Christian maturity under the leadership and guidance of Pope Benedict XVI. May God bless him and keep him in all his days, and bless the Church with more leaders like him.
(This post by the author originally appeared on February 11/13 at http://chaplaincy.newmantoronto.com/media/blog/wonderful-pope)
Join the Converstation
We encourage and appreciate your comments and discussion on this site. Please remember to be charitable in disagreement. We reserve the right to remove comments that are deemed hurtful or excessively vulgar.