What I Learned from Walter the Tailor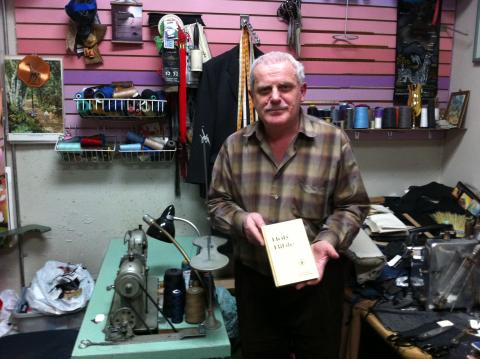 What I Learned from Walter the Tailor
This past weekend, I needed to get some dress pants altered so I visited my friend Walter the Tailor. Walter has been in the same tiny shop for the past 33 years; his business undoubtedly reliant on returning customers such as me. I enjoy spending time with Walter, mostly because I have no clue what's in store for me with each visit. And he's a darn good tailor.
As we exchanged pleasantries, I asked Walter how business was going.
"It's hard to make money these days."
"Tell me about it," I replied. "I work for the Church."
Walter laughed as he started on my first pair of pants. We talked about sports, politics, news, and of course, religion. Walter is a lapsed Catholic – at least that's what I gather from him. He doesn't go to Mass regularly, but he does read the Bible. His favourite book is Psalms.
"Do you read the Bible every day?" Walter asked me...much like he does every time I see him. Either he forgets that he asks me or he likes to hear my answer.
"I try my best to," I said.
"Do you know my favourite part?" Walter asked.
"Yes...Psalms."
"How did you know?"
"Because you've told me before. Many times in fact."
"It's my favourite book," Walter replied, seemingly oblivious to my last response. 
We continued our small talk. I told him about my family and about my job working for the Archdiocese of Vancouver. He mentioned that whenever he is downtown, he likes to stop by Holy Rosary Cathedral to pray. He asked me what I was passionate about. I told him my family, my faith, and the Vancouver Canucks. I asked him the same question. He replied with reading the Bible and playing chess (not at the same time).
Then he asked me something I wasn't prepared for.
"Will you read to me?"
"Pardon me?"
"Here," Walter said as he handed me a book called "The Golden Dozen" by Irving Chernev. Written in 1976, it chronicled the 12 greatest chess players of all time. I took a seat on the stool and I started reading aloud about Lasker, Alekhine, and Capablanca. When it came to the technical parts, I had no clue what I was reading. I likely butchered every second name I got to. I looked over at Walter and he was smiling as he was sewing.
"Keep going," he implored. "Hearing you read gives me energy."
So I kept going. Once in a while, Walter would tell me to move on to another profile. Or he'd correct me on a name of a person or place. Throughout, his big smile never left his face and tears started to form in his eyes.
"You are a very good reader and speaker," Walter said. "Thank you for reading to me. Hearing you read this book to me makes me so happy. It gives me energy. Why is that?"
I paused before answering him. "It's because I'm reading about something you love. Something you're passionate about. Something you desire to learn about. Something that's very important to you."
Right then and right there, it hit me. This is how I'm going to grow in my Catholic faith now that the Church's Year of Faith has ended.
Ever since I was baptized Catholic as an 18 year-old in 1993, I've been on a lifetime mission to learn more about the faith through prayer, service, and relationships. One thing I haven't been doing enough is reading.
Whether it's the Bible, the YOUCAT, news and magazine articles, encyclicals, or papal exhortations, I need to deliberately carve out time to read. It's been easy – especially over this past Year of Faith – to get caught up in the busy-ness of running events, consulting, speaking, and blogging. Now that the Year of Faith has ended, my goal is to become more educated in the Church's history and prevalent issues.
Following my own advice, I need to trust that by reading more, I will fall more deeply in love with our Catholic faith. I will become more passionate. I will become more articulate. And I will become a better conversation partner.
When Walter finished the last pair of pants, I paid him and reached for my keys.  As I did so, he noticed the large number of keys on my keychain.
"Just like the keys of St. Peter" Walter exclaimed.
"I'm not going to heaven yet."
We shook hands and as I walked to my car, I thanked God for the blessed time spent with Walter the Tailor.
Join the Converstation
We encourage and appreciate your comments and discussion on this site. Please remember to be charitable in disagreement. We reserve the right to remove comments that are deemed hurtful or excessively vulgar.