Thank God for Marriage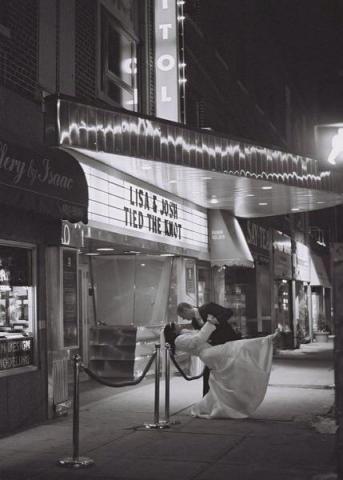 A friend mentioned to me that she loved how I talk about my wife in my blog posts. I thought it was funny, because as great as my wife is I feel like I don't talk about her near enough.
We recently celebrated our 6th anniversary, and though it's hard to believe that much time has passed, I know it's true by counting up the people sitting around our dinner table...
My wife is an amazing person. She is beautiful, smart, talented, caring, warm, joyful, creative, compassionate, bold and ambitious, (unintentionally) funny, and so much more. She's strong in all the areas that I am weak. She inspires me, and has fascinated me since the day I first laid eyes on her. My greatest accomplishment in life is getting her to marry me.
I met Lisa at a critical moment in my life, and the witness of her love for God was instrumental in turning my entire life around. In this sense I can truthfully say that meeting her was the best thing that ever happened to me. Were it not for her, and especially her faith in and love for God, I honestly don't know where I'd be.
All that being said, marriage is not a piece of cake. Based on the feelings of love and excitement one has going in, you might subconsciously think it will be an endless magic carpet ride scene from the movie Aladdin (yeah, please don't sing it...).  
It's not that.
You may hear something totally different from someone else, as every marriage is unique, but I think marriage has a kind of beautiful grittiness to it.
I mean that it can be really tough.
Our first years of marriage we're in many ways not what we expected. A month in we dealt with a serious health issue (cancer). Due to this, and the potential effects of the treatment involved, the joy of childbearing for the first time was now marred by a great apprehension.
Along with this we somehow still fought about the same silly things a lot of newlyweds fight about, like chores(!). This was a time of great learning. We learned a lot about fear and anger. We necessarily learned a lot about conflict resolution. And I felt like I was forced to learn and acknowledge the gap between the man I was and the man I wanted to be.
We learned what trust in God actually means.
How did we survive all this? We will both give you the same answer without hesitation: by God's grace. The Catechism says of the married couple:
To heal the wounds of sin, man and woman need the help of the grace that God in his infinite mercy never refuses them. Without his help man and woman cannot achieve the union of their lives for which God created them "in the beginning." (1608)
We need his help, and he never refuses. Thank God.
Does all this stuff overwhelm the love I have for my wife? By no means! We've truly grown closer through it all. Marriage is really a special kind of love, one that is tested by fire. What comes through the struggles is something amazing: two people who have grown both closer to each other and closer to God.
So if you get married and it's tough, don't despair. Let God work. It may hurt, and it may be a little gritty, but like the wedding at Cana, God will turn the water of your efforts into fine wine (cf. John 2:2-11). 
I thank God for my wife. I thank God for making things beautiful through the grittiness.
Thank God for marriage.
You may also enjoy: The Unbelievable Gifts of Marriage
Join the Converstation
We encourage and appreciate your comments and discussion on this site. Please remember to be charitable in disagreement. We reserve the right to remove comments that are deemed hurtful or excessively vulgar.