Prepare your house: Advent is upon us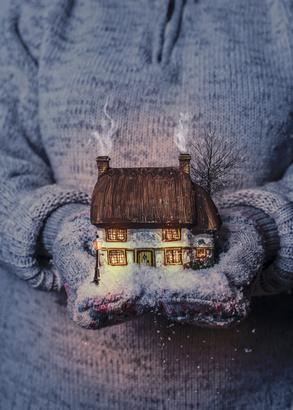 Prepare your house: Advent is upon us
An angel of the Lord appeared to them, and the glory of the Lord shone around them, and they were terrified. But the angel said to them, "Do not be afraid. I bring good news of great joy that will be for all people. Today in the town of David a Saviour has been born to you; HE IS CHRIST THE LORD. (Luke 2:9-11)
I was talking to my Mom about coming home for Christmas and she said, "I have already made your bed." I realized that when I talk to my parents about coming home - or about a guest coming to stay - they clean the house. The same is true at my apartment. When someone is coming over, you need to prepare their soon-to-be dwelling place. It needs to be presentable.
What about Advent? Jesus, the Saviour of the world, is the guest that is coming. We need to have his "dwelling space" clean and ready. Advent is about moving into that space to encounter him.  We need to make sure our body, our soul is ready to encounter the child Jesus. I know Advent has already started; however, maybe you don't feel that you are prepared enough yet, and it's never too late to start.
Winter is a beautiful time. The days are darker and more solemn, we have more darkness than light. Often after a hard year, sometimes our spiritual lives are darker than we want them to be. But what's beautiful about Christmas is that through the darkness, you find the joy. There can be joy in the Christmas tree, hearing Christmas carols or seeing Christmas lights. In the darkness we can look for the light. Advent means "coming". This is a time to prepare our hearts for Jesus, especially if they are darker than we want them to be. We need to search for the light and clean the house.
So, what can we do to "clean our house?" Here are some ideas:
Confession- The best way to clean our house is to visit confession. I still remember my first confession in 2005. After much pressure from my friends I visited my priest and asked him to hear my confession. We had it in his office, so, he was looking right at me. I remember two things about that. 1. He did not judge me, or wince at what I said. 2. When I left, I jumped up and down because I felt so much weight off my shoulders.
Meditate on the mysteries of Christmas- Read the readings that happen during Advent. Here is a link to all the readings. Just read and think about HOW AWESOME THEY ARE!!!!
Pray as  you go – This is a great App you can download on an iPhone or Android for free and it has a 12 minute meditation on the daily Gospel! It's great if you commute!
Spiritual reading- Often, over the Christmas break we have lots of time and have fallen out of routine. Christmas is a good time to read a bit more! Josh wrote another blog post about some great Christmas reads in his post "Advent is here, Let's make it count this year."
Question: How are you getting your house ready?
 
Join the Converstation
We encourage and appreciate your comments and discussion on this site. Please remember to be charitable in disagreement. We reserve the right to remove comments that are deemed hurtful or excessively vulgar.