Looking Back on the Election of Pope Francis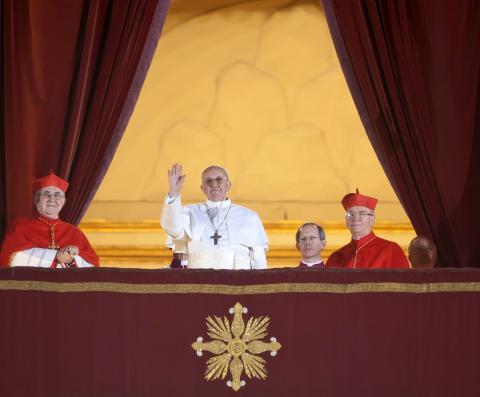 Photo credit: Catholic Church (England and Wales) on Flickr-8555990888
Looking Back on the Election of Pope Francis
Today is the anniversary of the election of our 266th pope. Do you remember what you were doing when you heard the news?
March 13 of 2013 was a CRAZY day for me. In brief, I had accepted some requests to do media  interviews around the resignation of Pope Benedict and the start of the conclave. However, I would say I was still pretty nervous about doing live TV at that time. I couldn't shake interior questions like:
"What if I say something crazy, or heretical? What if I give tens of thousands of people the wrong idea about Catholic teaching??"
Well, I had to get over this pretty quick on the date Pope Francis was elected. I was in the studio of City TV in downtown Toronto, and I was expecting to speak for a few minutes about the conclave and the future of the Church. After one segment of speaking to camera they asked me to stay just a few more minutes and say a bit more after a commercial break. Well, during the commercial break pandemonium broke out in studio.
"White smoke! People, white smoke!! Drop everything! PUT EVERYTHING ON ROME!!"
I happened to be the guy in the chair when the pope got elected, so I ended up providing live commentary for the next several hours.
Talk about baptism by fire!
In the end it was one of the coolest days of my life. Habemus papem, and I got to process it all on live television. What. A. Rush.
Question: Where were you when Pope Francis was elected? I'd love to hear your story below.
Join the Converstation
We encourage and appreciate your comments and discussion on this site. Please remember to be charitable in disagreement. We reserve the right to remove comments that are deemed hurtful or excessively vulgar.