An Ecological Conversion? Say what?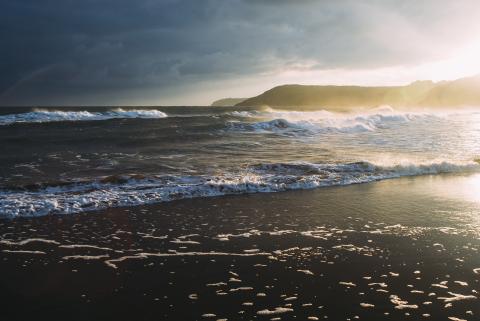 An Ecological Conversion? Say what?
Today (September 1st) is a very important day, as Pope Francis has called for the first World Day of Prayer for the Care of Creation.
"Prayer for the care of creation, eh? Sounds a little bit hippy to me…"
Except not.
There are a good deal of Catholics who care a good deal about the environment. And there are a good deal of Catholics who are hesitant to care too much about the environment because those that do seem to not care as much about other issues, like being pro-life (yes, I know I am painting with broad strokes here).
On a macrocosm, you see this in Canadian politics too, don't you? The NDP and the Greens vociferously advocate for the environment, and just as vociferously advocate for "a woman's right to choose" (abortion).
And Justin Trudeau loves the environment so much he wants us to smoke more of it with him…
But I digress.
And maybe it's because the leaders in the environmentalist movement tend to be the big advocates for population control, which inherently goes against the culture of life.
So is it one or the other? Do we need to choose between life issues and environmental issues?
As with many Catholic positions, it isn't an "either… or...", it's a "both… and..."
As in Catholics need to be both protectors of life and protectors of Creation.
And this requires in each of us a conversion.
Says Pope Francis in Laudato Si:
"The external deserts in the world are growing, because the internal deserts have become so vast". For this reason, the ecological crisis is also a summons to profound interior conversion. It must be said that some committed and prayerful Christians, with the excuse of realism and pragmatism, tend to ridicule expressions of concern for the environment. Others are passive; they choose not to change their habits and thus become inconsistent. So what they all need is an "ecological conversion", whereby the effects of their encounter with Jesus Christ become evident in their relationship with the world around them. Living our vocation to be protectors of God's handiwork is essential to a life of virtue; it is not an optional or a secondary aspect of our Christian experience. (217)
Living our vocation to be protectors of God's handiwork is essential to a life of virtue.
Wow.
Doesn't this challenge us to look at our lifestyles? The ways in which we consume? The positions we take, and the things we advocate for?
I had a bit of a conversion in this area when I encountered the spirituality of an ecclesial movement called CLM (the Christian Life Movement).
Part of their spirituality teaches that as a result of Original Sin, man experiences 4 major "ruptures" in his life which he needs to reconcile. These are:
rupture between man and God 
rupture between man and his neighbour 
rupture between man and himself
rupture between man and Creation
Speaking of this final rupture, the founder, Luis Fernando Figari says:
"...we lose our sense of reverence and the proper use of things; we are incapable of admiring the work of God's hands in all its richness and goodness."
Thought of in this way, humans are not fully "reconciled" if they exclude care for the creation which we inhabit by God's provision.
God placed Adam in the garden and asked him to till it, not to ravage and abuse it.
Another way of thinking of it is what I heard Cardinal Turkson call "generational solidarity." This means that we express our solidarity with those who aren't even born yet by taking care to leave them a good place to inhabit. It is solidarity with our descendants.
Do we want to be converted? Do we want to be reconciled? Do we want to live solidarity? Then get ready to embrace the "tree hugger" moniker.
Another aspect that shouldn't be overlooked is this: many people today who do not know God already do see the goodness of nature. Often it is not religious people who are fighting to protect creation, but others (even if they don't see it as being crafted by a Creator, per se).
So if our hearts are moved for the same thing that theirs' are, this can be a great meeting place within the modern culture.
Imagine if Catholics were known as one of the groups advocating the loudest for the protection of the earth? Imagine if we were organizing community discussions about issues around Canadian mining at the local fair trade coffee shop?
In addition to being a good in itself, this could be a great starting point in a dialogue with non-believers who share a common concern.
And who knows where that could lead? Only God.
On this Day of Prayer for the Care of Creation, let us pray together the 2 prayers the Holy Father ends his encyclical with:
A prayer for our earth
All-powerful God, you are present in the whole universe
and in the smallest of your creatures.
You embrace with your tenderness all that exists.
Pour out upon us the power of your love,
that we may protect life and beauty.
Fill us with peace, that we may live
as brothers and sisters, harming no one.
O God of the poor,
help us to rescue the abandoned and forgotten of this earth,
so precious in your eyes.
Bring healing to our lives,
that we may protect the world and not prey on it,
that we may sow beauty, not pollution and destruction.
Touch the hearts
of those who look only for gain
at the expense of the poor and the earth.
Teach us to discover the worth of each thing,
to be filled with awe and contemplation,
to recognize that we are profoundly united
with every creature
as we journey towards your infinite light.
We thank you for being with us each day.
Encourage us, we pray, in our struggle
for justice, love and peace.
A Christian prayer in union with creation
Father, we praise you with all your creatures.
They came forth from your all-powerful hand;
they are yours, filled with your presence and your tender love.
Praise be to you!
Son of God, Jesus,
through you all things were made.
You were formed in the womb of Mary our Mother,
you became part of this earth,
and you gazed upon this world with human eyes.
Today you are alive in every creature
in your risen glory.
Praise be to you!
Holy Spirit, by your light
you guide this world towards the Father's love
and accompany creation as it groans in travail.
You also dwell in our hearts
and you inspire us to do what is good.
Praise be to you!
Triune Lord, wondrous community of infinite love,
teach us to contemplate you
in the beauty of the universe,
for all things speak of you.
Awaken our praise and thankfulness
for every being that you have made.
Give us the grace to feel profoundly joined
to everything that is.
God of love, show us our place in this world
as channels of your love
for all the creatures of this earth,
for not one of them is forgotten in your sight.
Enlighten those who possess power and money
that they may avoid the sin of indifference,
that they may love the common good, advance the weak,
and care for this world in which we live.
The poor and the earth are crying out.
O Lord, seize us with your power and light,
help us to protect all life,
to prepare for a better future,
for the coming of your Kingdom
of justice, peace, love and beauty.
Praise be to you!
Amen.
Join the Converstation
We encourage and appreciate your comments and discussion on this site. Please remember to be charitable in disagreement. We reserve the right to remove comments that are deemed hurtful or excessively vulgar.