Chalice: A Canadian charity you should know about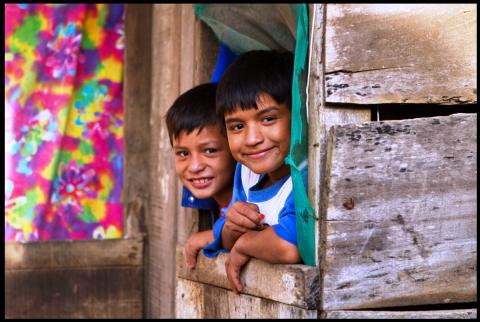 Chalice: A Canadian charity you should know about
Chalice is a Canadian Catholic charity par excellance, assisting those in need around the world. It consistently recieves an A+ rating for charitable work from Money Sense magazine. My wife and I have been sponsors of Chalice's initiatives for years and we believe in them wholeheartedly. Their Christmas Gift Catalogue for supporting those in need is available here).
1. Fr. Pat, what is Chalice, and who does it serve?
Chalice is a Catholic Charity that assists the impoverished in 15 developing countries primarily through the sponsorship of children and elderly.
I believe that Chalice offers the Catholic Church an opportunity for people to live out their faith and to share their blessings to care for the poor, and we offer our partners in the developing world assistance in caring for the economically disadvantaged in their communities.
Our Mission: We are a ministry of the Catholic community, creating and nurturing relationships of life and love wherever we serve.
2. How many people are sponsored through Chalice? What does sponsorship give them?.
Chalice currently sponsors 49,500 people.
Sponsorship helps to provide basic needs; assistance with education, nutrition, health care, clothing, and shelter. A child who grows up with an education has hope for a better future. The opportunity of employment becomes a reality. Parents are able to provide for their families.
3. Can you tell us about self-help groups? Why do you believe this is worth supporting?
Self-help groups which we call Direct Family Funding are where the parents of sponsored children form small groups of 15 or 20. The small group meets and they decide together the needs of the group. The parents ensure that their children are in school, nourished, clothed, have shelter, and ensure medical care. Parents are empowered to take care of their families, which also benefits the community. Members contribute to a group account from which individual members can borrow.
4. Tell us about Chalice Mission Trips. Who can take part?
Chalice Mission Trips are an opportunity for sponsors and volunteers from across Canada to immerse themselves into daily life at Chalice's Sponsor Sites around the world.  Throughout their mission, volunteers meet the children, families and communities whose lives are impacted by the generosity of Canadian sponsors and donors.  They also work alongside Chalice staff and partners whose daily sacrifice is a witness to God's love in action.
Each mission is unique, but the common objectives are:
·      Service projects supporting the work of Chalice's partners.
·      An opportunity to build relationships with our partners and beneficiaries.
·      Witnessing the impact of sponsorship and sharing the opportunity of sponsorship with others.
·      Collectively raising financial support for the communities we visit.
·      An invitation to become Chalice Champions, helping us in our mission of "Sharing Christ with All in Need".
5. How can someone give to a Chalice project this time of year? What difference will it make?  
By dialing 1-800-776-6855 or going to www.chalice.ca
Donors who wish to support a Community Project or Programme can contact Marilyn Hall or Dave MacKinnon. They would be very happy to provide information.
There are many wonderful ways a person can help to ease poverty. Chalice's key areas of focus are: Education, Nutrition, Health Care, Community Improvements, and Emergency Funds which would include Urgency, Critical Needs, and Disaster Relief (second responders).
1.    Our Chalice Children Nutrition Programme provides nutritional support to children and elderly in need. Currently over 5000 children in Latin America have benefited from the programme and we are expanding the programme to our Sites in Africa (to donate, click here).
2.    Community Projects support the communities in which we work. Community projects support education, medical needs, housing, water and nutrition (to donate, click here).
3.    eRoots supports people in growing their food security and livelihood through training in sustainable acriculture practices and giving them the tools they need to thrive (to donate, click here). 
4.    Disaster and Critical needs fund unexpected needs in our Sites. These funds help people displaced due to natural disasters (flooding, wildfires, earthquakes, typhoons, etc) and those in need of medical treatment (click here).
If you would like to extend your Christmas giving, think about doing so through the work of Chalice. 
For further reflection:
"Poverty calls us to sow hope... Poverty is the flesh of the poor Jesus, in that child who is hungry, in the one who is sick, in those unjust social structures." -Pope Francis
Poverty is the flesh of the poor Jesus, in that child who is hungry, in the one who is sick. — Josh Canning

Tweet Quote
Join the Converstation
We encourage and appreciate your comments and discussion on this site. Please remember to be charitable in disagreement. We reserve the right to remove comments that are deemed hurtful or excessively vulgar.