5 More Reasons to Love Confession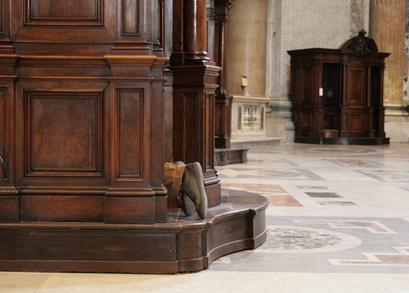 5 More Reasons to Love Confession
Does the sacrament of confession make you a little uncomfortable? You wouldn't be alone if you said yes.
But the Pope seems to be saying a lot about it lately, and I can't help but think that those who are listening are feeling much less uncomfortable the more he says.
I gave 5 reasons to befriend confession in a previous post. Here are 5 more from the big guy.
1. It is really the opposite of how bad you think it is
"Jesus waits for us to forgive us. We can ask Him a question: Is going to confession like to a torture session? No! It is going to praise God, because I, a sinner, have been saved by Him. And is He waiting for me to beat me? No, with tenderness to forgive me. And if tomorrow I do the same? Go again, and go and go and go.... He always waits for us. This tenderness of the Lord, this humility, this meekness...." (Apr. 29/13)
2. Even a child can do it
"Little children have that wisdom: when a child comes to confess, he never says something general. 'But father, I did this and I did that to my aunt, another time I said this word' and they say the word. But they are concrete, eh? They have that simplicity of the truth. And we always have the tendency to hide the reality of our failings. But there is something beautiful: when we confess our sins as they are in the presence of God, we always feel that grace of shame. Being ashamed in the sight of God is a grace. It is a grace: 'I am ashamed of myself.' We think of Peter when, after the miracle of Jesus on the lake, [he said] 'Depart from me, Lord, for I am a sinner.' He is ashamed of his sins in the presence of the sanctity of Jesus." (Oct. 25/13)
3. You will help the Church grow
"Someone might say: "But I am afraid that the priest will chastise me". No, the priest will not chastise you. Do you know who you will encounter in the Sacrament of Reconciliation? You will encounter Jesus who pardons you! Jesus is waiting for you there; and this is a Sacrament that makes the whole Church grow." (Nov. 6/13)
4. You can rest assured that you are forgiven
"Perhaps many do not understand the ecclesial dimension of forgiveness, because individualism, subjectivism, always dominates, and even we Christians are affected by this. Certainly, God forgives every penitent sinner, personally, but the Christian is tied to Christ, and Christ is united to the Church. For us Christians there is a further gift, there is also a further duty: to pass humbly through the ecclesial community. We have to appreciate it; it is a gift, a cure, a protection as well as the assurance that God has forgiven me. I go to my brother priest and I say: "Father, I did this...". And he responds: "But I forgive you; God forgives you". At that moment, I am sure that God has forgiven me! And this is beautiful, this is having the surety that God forgives us always, he never tires of forgiving us. And we must never tire of going to ask for forgiveness. You may feel ashamed to tell your sins, but as our mothers and our grandmothers used to say, it is better to be red once than yellow a thousand times. We blush once but then our sins are forgiven and we go forward." (Nov. 20/13)
5. Pope Francis goes, too (and often!)
"Priests and bishops too have to go to confession: we are all sinners. Even the Pope confesses every 15 days, because the Pope is also a sinner. And the confessor hears what I tell him, he counsels me and forgives me, because we are all in need of this forgiveness. Sometimes you hear someone claiming to confess directly to God... Yes, as I said before, God is always listening, but in the Sacrament of Reconciliation he sends a brother to bestow his pardon, the certainty of forgiveness, in the name of the Church." (Nov. 20/13)
Next time you feel nervous, ashamed, hesitant to approach the sacrament and ask God's forgiveness, give these quotes a read and ask for courage. Imagine Pope Francis saying to you, "Hey, let's go together."
Question: Do you ever feel hesitant to go to confession? How do you get over it?
You may also like: 5 Reasons to Make Confession Your New BFF; and Follow the Leader
Join the Converstation
We encourage and appreciate your comments and discussion on this site. Please remember to be charitable in disagreement. We reserve the right to remove comments that are deemed hurtful or excessively vulgar.