Evangelization: It's work, but it's not rocket science!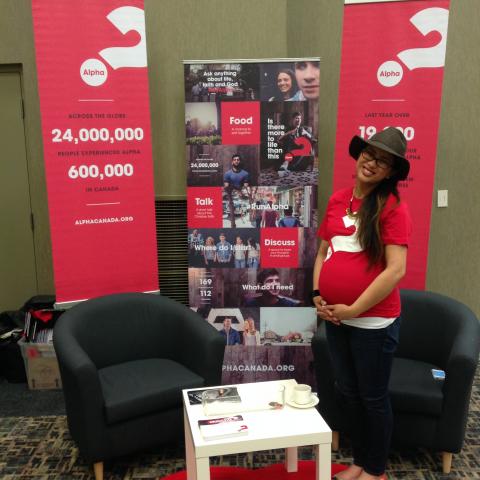 Evangelization: It's work, but it's not rocket science!
I was at a fantastic conference this past weekend in Ottawa. Organized by a friend of mine, the inaugural New Evangelization Summit was truly world class, with a roster of speakers including Scott Hahn, Ralph Martin, Fr. Michael Gaitley, Fr. James Mallon, and more. And next year's line up is amazingly more impressive.
I hosted a booth at this conference and was generously given some time on stage to speak about Alpha as a tool for evangelization. I told them 3 things about Alpha.
Alpha is simple
Alpha is an amazing experience, but it's really not rocket science, and you don't need extensive training to lead it.
Alpha consists of a meal, a talk (i.e. playing a video), and small group discussion. It is an easy and repeatable method; so much so that 24 million people have been on Alpha. So it's easy for people to attend, too!
One of the nice things about Alpha is that it is great for people who want to evangelize but are nervous about it. A friend of mine affectionately refers to it as "evangelization for cowards." Because you don't even have to proclaim the Gospel with your own lips; you just bring people to the proclamation (the talk) and talk about it with them afterwards.
The great thing is, you will become less afraid the more you are involved in it. So it's like a school of experience in evangelization.
Alpha is effective
We ran Alpha at our parish for the first time recently and we saw some amazing transformation. One memorable moment was when one of the participants (a life-long Catholic who was active in the parish) hugged my wife and I before one of the last sessions. She thanked us repeatedly and kept saying "I had no idea. I just had no idea."
She was referring to not knowing the personal relationship that God wanted to have with her. She had long performed the minimum tasks to be a practicing Catholic, but she didn't realize that God wanted to be in intimate, communicative relationship with her every day! She realized that she wanted this personal relationship with Jesus, and she realized it while doing Alpha.
Others told us on their feedback forms that they starting going to Mass regularly again. Some started reading the Bible everyday, or praying every day. One lady at a neighbouring parish decided to go back to confession again, for the first time in 40 years!
These are the effects I am talking about when I say that Alpha is effective, and you can hope for similar stories if you embrace Alpha in your parish.
Alpha is free
We love to give Alpha away. Because we want people to evangelize! When you register an Alpha course at our website you can immediately download the videos, the leaders' guides, the training materials, and even the promotional materials for FREE. A lot of people don't realize that.
But if we want all churches, rich or poor, or even lay people in their living rooms to be able to use this evangelizing tool, we have to make it free and readily available. So we do.
There are also new versions of Alpha already, and more coming out, so you should sign up for our inside track if you want to be in the loop on that.
I hope what I've said has enticed you a little bit to try Alpha. What have you got to lose?
More importantly, what does someone else stand to gain?
Join the Converstation
We encourage and appreciate your comments and discussion on this site. Please remember to be charitable in disagreement. We reserve the right to remove comments that are deemed hurtful or excessively vulgar.