Athletic Spirituality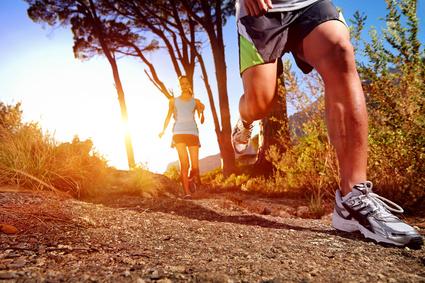 Fitness is a good thing, right? We all want to be fit and healthy. What about spiritual fitness? Do you want to be spiritually athletic?
I started using the Nike+ Fuelband a few weeks ago. It's basically a wrist watch that tracks your activity throughout the day and reports it. It records steps, calories, and "Nike Fuel". You can set your own personal fitness goals and track your athletic progress with them.
Knowledge is power, as they say. When you can see where your habits are hurting you, you are really able to set yourself up for success.
Athleticism requires planning and commitment, and planning and implementing a fitness regimen actually makes me think of prayer. Do you have a prayer plan? A daily prayer routine is even more important than your workout routine.
I saw a stat the other day that said if you have set a specific time to do something, you are 8 times more likely to complete the task. Is there a specific time of day that you pray the rosary, read Scripture, partake in mental prayer, etc.? What time is it?
Maybe there is an app to help with a prayer routine, but you can also use a handly little thing called a notebook. When I first started going to spiritual direction, my director asked me about my "plan". I realized that I didn't have one, so he encouraged me to map out my daily prayer appointments. This was Step One.
Step Two is to examine each day whether the plan worked (i.e. did I make my appointments). If not, why not? Could I have with more exercise of the will, or do I need to move something somewhere else?
Did you know that prayer involves a bit of battle? The Catechesim puts it like this:
Prayer is both a gift of grace and a determined response on our part. It always presupposes effort. The great figures of prayer of the Old Covenant before Christ, as well as the Mother of God, the saints, and he himself, all teach us this: prayer is a battle. Against whom? Against ourselves and against the wiles of the tempter who does all he can to turn man away from prayer, away from union with God. We pray as we live, because we live as we pray. If we do not want to act habitually according to the Spirit of Christ, neither can we pray habitually in his name. The "spiritual battle" of the Christian's new life is inseparable from the battle of prayer. (CCC 2725)
If that isn't athletic language, I don't know what is.
So let's battle, and let's get fit! Physically and spiritually.
Challenge: If you haven't already, take some time to map out a plan of daily prayer, and take a couple of minutes each night to see if the plan worked.
Question: What elements are part of your prayer plan? 
Join the Converstation
We encourage and appreciate your comments and discussion on this site. Please remember to be charitable in disagreement. We reserve the right to remove comments that are deemed hurtful or excessively vulgar.